Camping at Country Jam
Country Jam USA offers 2 fantastic campgrounds-

the pines
*The Pines can accommodate many types of campers, from big rigs with electrical hookups, to rustic tent camping!
You'll be surrounded by tall pines and a great atmosphere. The Pines offers public showers (free), limited campground store, bar and nightly entertainment.


the fields
*The Fields, located adjacent to The Pines, offers open field camping with full access to the amenities of the adjoining Pines campground.
Fields campsites are 20X30, with limited 20X40 spaces in row P. Sites in The Fields are primitive (no electrical hookups available).
Have a site in The Pines and want to switch to The Fields? Give the office a call at 715.839.7500 M-F 8a-4p.


CLICK HERE TO ORDER campsites & camp access passes.


**Everyone that ENTERS the campground must purchase a Camp Access Pass.
Your campsite is the 'real estate' the Camp Access pass is the admission to the campground. They are available online or at the gate. Prices will increase at the gate, so purchase them early and save. Everyone at your campsite (even if just visiting) must have a Camp Access Pass and a festival admission wristband.
each campsite allows for 6 people to stay at.


Our campground is wooded with lots of topography. To ensure your site is correct for you, we highly suggest you give us a call at 715.839.7500 prior to making your reservation.

iF YOU ARE FAMILIAR WITH THE CAMPGROUND, SIMPLY CLICK Buy tickets, SELECT CAMPING AND CLICK ON THE SITE YOU WOULD LIKE ON THE MAP.


Give us a call at 715.839.7500 or email us at info@countryjamwi.com (after hours).
The Pines and The Fields Campground are located 1 mile from the Country Jam USA festival site at 5024 Crescent Ave. Compliementary shuttle busses run continuously during the event.

The Fields Campsite pricing:
Standard 20X30: $175
Standard Long 20X40: $200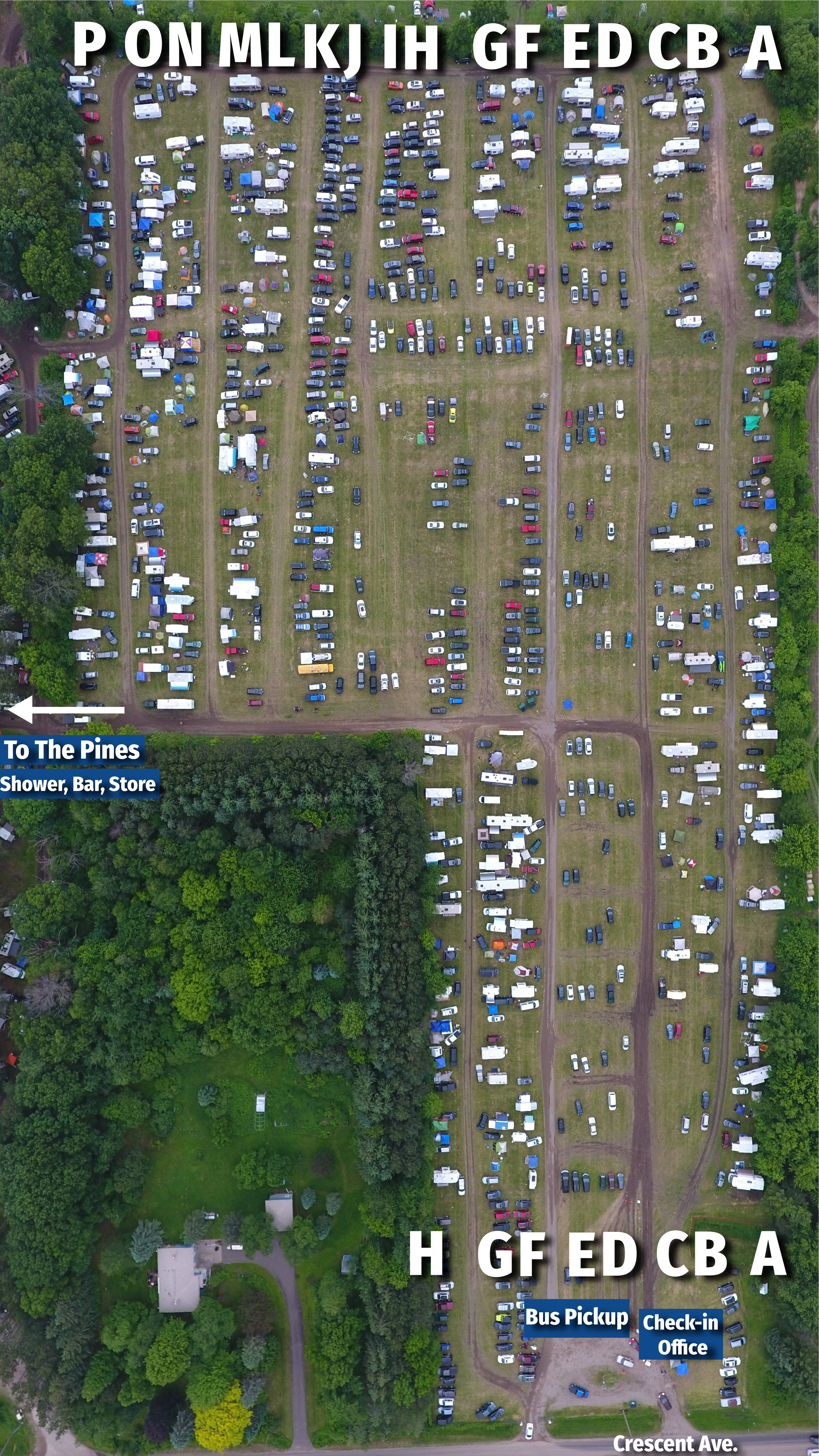 THE PINES IS SOLD OUT.